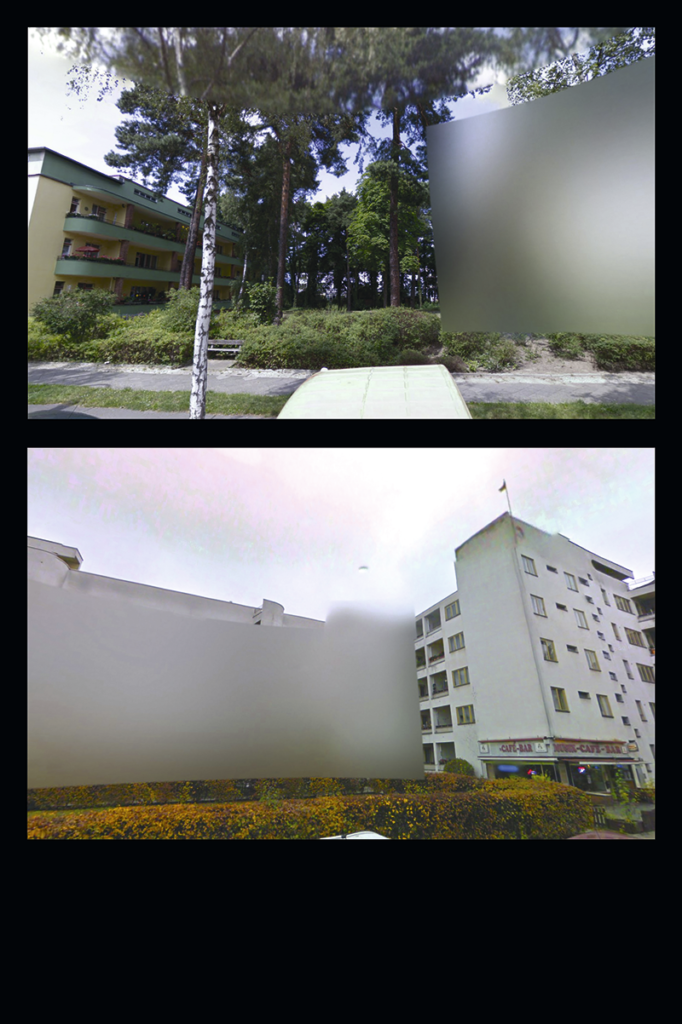 Credit: Tim Tetzner
For If the Eyes Can't Touch (Blurred Modernism), Tim Tetzner takes as his point of departure 32 images of modernist buildings that have been blurred in Google Street View on the basis of privacy and property rights. While concealing the architecture from public view, the blur also acts as a digital appendage, altering each building's form and expanding it into a new entity, something inscrutable and uncanny. Paul Virilio has declared Google's map service as the end of the world, but in this more distanced view, modernism's central themes of transparency and reduction of ornament are transposed into an immersive present.
16.00 Guided Tour / Archivio Conz
As a point of departure, the newly neighbouring Archivio Conz is opening its doors for a tour through the collection.
With more than 3000 artworks, documents, editions and personal belongings of Fluxus, Concrete Poetry, Actionism
and Lettrism, the archive of the Italian collector and publisher Francesco Conz (Cittadella, 1935 – Verona, 2010)
found its recent home in a warehouse in Nord-Charlottenburg, represented by Supportico Lopez. For this occasion the
archive will present various works from the collection in dialogue with Blurred Modernism, narrating threads of
relocation and mapping.
17.00 Walk / Nord-Charlottenburg – Siemensstadt
Scharaun and Archivio Conz are located in neighbouring areas. Starting at Archivio Conz and ending at Scharaun, this
walk intertwines the enigmatic suburbs of Nord-Charlottenburg and Siemensstadt and visits the architecture of admired
German architect Hans Scharoun. As an interdisciplinary project space for art and architecture, Scharaun is located in a
building constructed by Hans Scharoun in 1930.
18.00 Exhibition Opening / Scharaun
As part of Project Space Festival 2018 Scharaun is presenting the exhibition If the Eyes Can't Touch (Blurred Modernism)
by Berlin-based artist Tim Tetzner. Exploring Google Street View's representation of modernist architecture in response
to the digital blur as a protector of personal and property rights, the exhibition traces an arc from the evil eye of classical
antiquity to Google's economization of the public realm.
Archivio Conz
Lise-Meitner-Str. 39,
10589 Berlin
S + U Jungfernheide
How to find to Archivio Conz and Scharaun
Festival insight by Piotr Pietrus