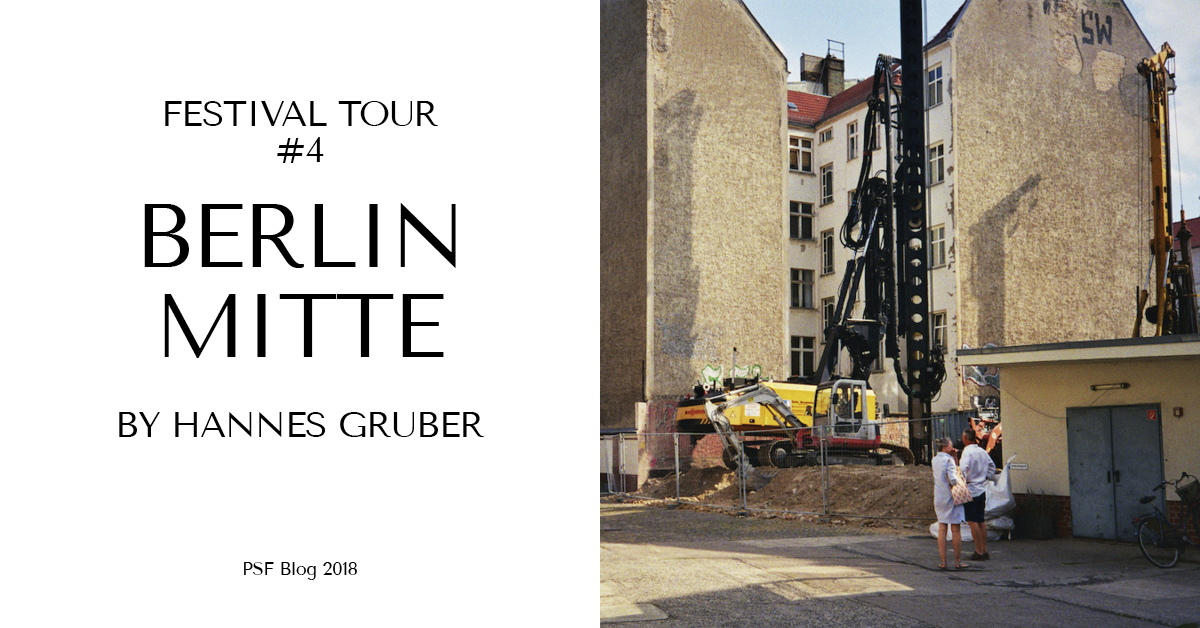 The Project Space Festival is also a tour through the city. Hannes Gruber takes us to some of his favourite spots in Berlin-Mitte, where the festival contribution of his nomadic project space, meantime projects, starts on August 30th. A stroll through Mitte, past some independent spaces that have been closed – and others, saved.
Park area beside the former Deutsche Post
"I came to Berlin in 1999 and have pretty much stayed in this area here ever since. The small park area next to the old post building on Torstraße always seemed interesting to me. There was a sculpture, a flight of steps – everything run down, of course, and full of graffiti and rubbish. I can't remember seeing anyone really spend quality time there. Later, there was a Zwischennutzung there for some time, with public viewing events and such. Now, they are building apartments there. It's not really that the park is such a big loss; it wasn't among the crown jewels of the area to begin with. And yet, the whole development is interesting, isn't it? How a public area becomes private property, with which a lot of money is being made. And there's so much history in this one little piece of land. Looking at it, it was probably the site of a bombing in WWII. Then it came to reflect the traces of East Berlin's hardship and, later, the poverty of a post-reunification Berlin, a city that had more pressing matters to attend to than taking care of a small park. I don't really look back on those places with a feeling of nostalgia. But, I do want to remember what attracted me to them. And that little park was a space in the city that left something open. I liked that."
Torstraße
10119 Berlin
KIM Bar
"I forever cycled past this place without it ever being open. There was just the dirty shop window, and nothing going on behind it. That must have been around 2004. Then I went past it once and found some people in there by chance – the owner and the architect, as it later turned out. When I asked them who had been renting the space, they just laughed and said: "a drug dealer". So someone must have used it as a base ground for their not-quite-official business. Then, the owner offered that I do something with the space, and in 2005 I opened a café bar there – slightly artistic, pretty amateurish, and not entirely focused on making money, one could say. After one-and-a-half years we had to give up and I handed over the keys to the people who remain in charge to this day. After all this time, I still enjoy going there, and last year, I did an event series at the bar, where I introduced project spaces to the audience.
The bar is a relic of sorts, although it doesn't quite give of the usual nostalgic vibes. Perhaps one could best describe it by saying that the place has an attitude. They'd never do anything that they are not into.
There are lots of regulars but also new people all the time, from all walks of life. You can go there on a Saturday and sit quietly with five people, and on other days the place is packed with people dancing on the tables. I still remember the ten-year-anniversary when one of the guests brought a firework – and started it inside. As you do… You can just about imagine what went on then. At any rate, the burn mark on the wall still remains to tell the tale."
Brunnenstraße 10
10119 Berlin
www.kim-bar.com
Staircase behind the Berlin Dungeon
"That's just a fantastic object, one that's a little bit in the shadows: when you drive past it, it pops into view, almost out of nowhere. It always reminds a bit of the Bierpinsel in Steglitz. Although it was never intended, the staircase is such a great sculptural object: a chunky piece of architecture but with that great brutalist elegance to it. The whole area around it is quite special when you think about it. That's where the cheap tourist entertainment happens, with the Dungeon and the AquaDom. A couple of minutes away, you get the high class version of that, on Hackescher Markt. All of these places are unreal in a sense: you can sit in a packed café there and nobody will even notice you. And I just think places like that staircase somehow ground this area of the city."
Spandauer Str. 2
10178 Berlin
ACUD MACHT NEU
"This place started out as a squat. The politicians supported it a couple of times in an attempt to save the project, but then the organisations behind it went bankrupt. The house would have been thrown on the market to be auctioned off, but the present owners then stepped in and even promised to secure the cultural usage. Myself – I have also recently started working here as a bar manager.
To be honest, it's quite a hideous functional building, with its somewhat unusual courtyard architecture. Concrete chic of Southeast European decent, I'd say: not exactly beautiful, but interesting nonetheless.
You can really see how the different eras have left their traces here. And it's special that so many different projects have found a home under one roof: the cinema, the bar, the gallery, the theatre, and the club. I wouldn't be able to name another place that boasts this kind of wide spectrum of culture at such a high quality."
Veteranenstraße 21
10119 Berlin
www.acudmachtneu.de
—
Texts by Hannes Gruber
Recorded by Manuel Wischnewski
Photographed by manuscript696