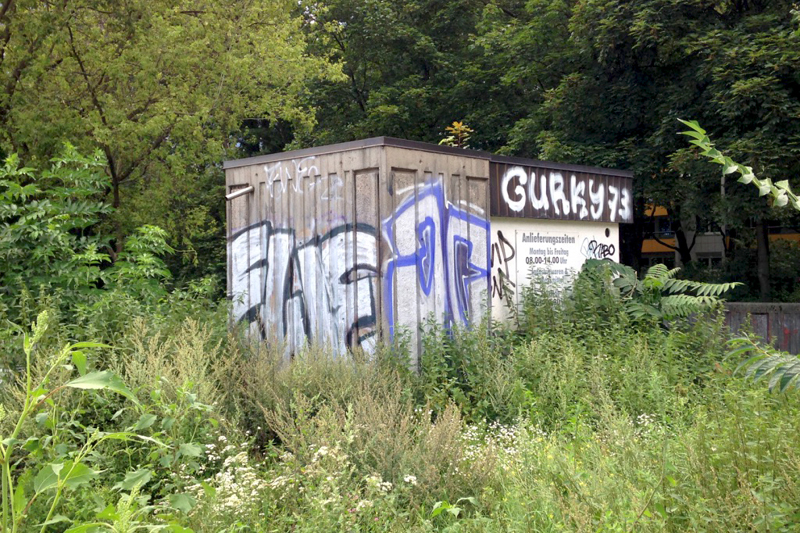 In 1979, the Centrum warehouse, designed by the Swedish construction company SIAB, opened its gates at Ostbahnhof. Since then, a gatekeeper pavilion made of concrete, glass and metal has been standing about 800 meters away, on Straße der Pariser Kommune. Here, at the entrance of an underground delivery tunnel, employees would control the continuous flow of goods that went into the Centrum building. After 1990 the department store was taken over by the Hertie group. A security camera got the gatekeeper's job and the pavilion, which is not far from the publishing house of Neues Deutschland, was barricaded with wood panels and evidently forgotten. With the closing and departure of Galeria Kaufhof in 2017, the department store era at Ostbahnhof ended.
The temporary art project CNTRM will be housed in this seven-square-foot structure from April to October 2018. Within twelve chapters, the site-specific features and transformation processes since the fall of the Wall, particularly in that area, will be analyzed and commented on. At present, this neighborhood is also experiencing enormous transformation pressure through urban development initiatives by the real estate industry and investors.
The guardhouse reopened after 20 years with Chapter 12 and started the process of renewal and visualization. The planned renovation will conclude with Chapter 1 in October 2018 and then reveal the impression of what the gatehouse looked like 40 years ago. Parallel to this, CNTRM, together with invited artists, is designing a second storyline which consists of ten exhibitions as the main act (Chapters 11 – 2).
CNTRM is a project by Christof Zwiener.