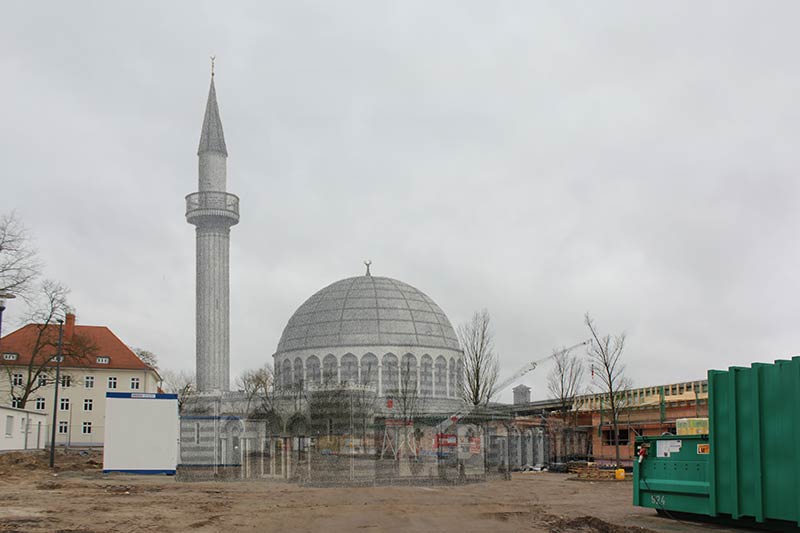 If You Fail To Cross The Rubicon
Nathalie Anguezomo Mba Bikoro nutzt Live-Kunstpraktiken, Film-Essays und fotografische Geschichtenerzählungen, um lebende und performative Archive zu kreieren, während sie die Natur unserer Kulturen, Geschichten und Identität hinterfragt. Sie erklärt, dass ihre Forschung eine Zeit-Maschine ist, die auf die Sinnes-Speicher und politische Landschaften reagiert, um menschliche Denkmäler von Räumen und Bevölkerungen aller Nationen zu erschaffen, die postkoloniale Gesten in Richtung Freiheit neu zu erfinden suchen. Diese Erzählungen, basierend auf wahren Begebenheiten, schlängeln sich durch visuelle Fiktionen.
Die Performance findet im Rahmen der Ausstellung "Welcome to Futuristan. 30 Jahre galerie futura" (7.8.-27.8.16) im Projektraum, Kunstquartier Bethanien statt.
Bild: Nathalie Anguezomo Mba Bikoro , Halfmoon Mosque, Squat Monument, 2015
Festivaleinblick von Joanna Kosowska