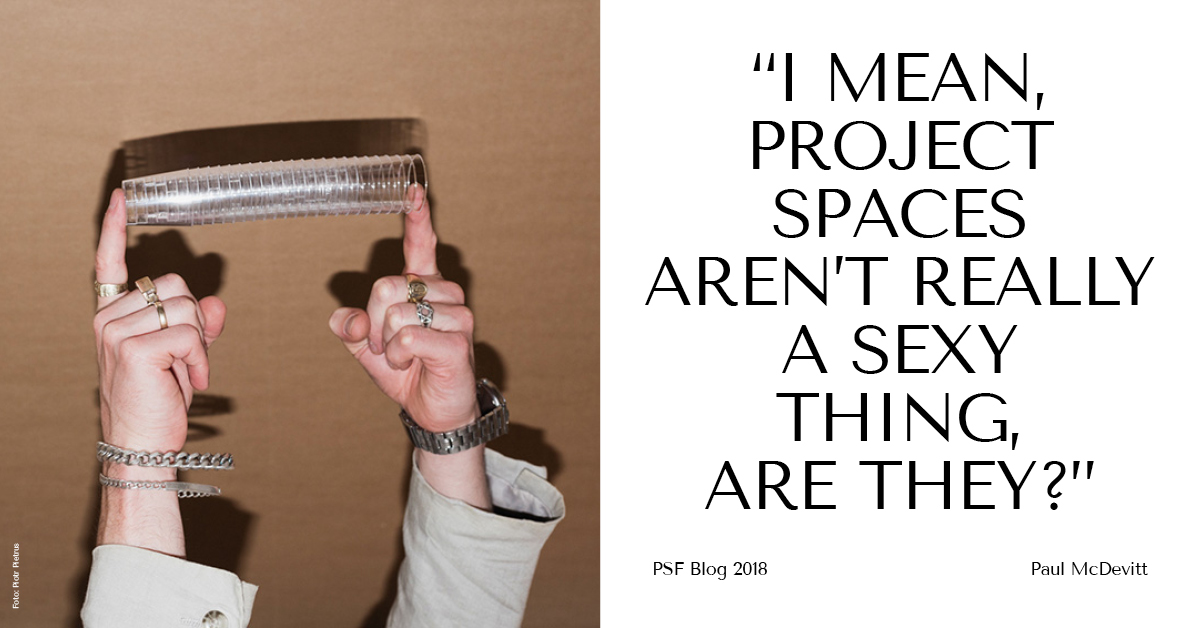 Each festival has its longstanding participants, but there are also new additions to be discovered – like the spaces FK-Kollektiv and Farbvision in this year's programme. What does it feel like to be a newcomer? Why the festival is an important pat on the back – an interview with Stephanie Ballantine and Paul McDevitt.
This is your first year in the festival for your respective spaces: What's been your experience as newcomers?
Stephanie: It's been great! I went to as many events as I could and I really love seeing the other spaces. It's so interesting to see what the others are doing and you can tell that some of them are a few years ahead of what everyone else is doing. We've been kind of outside the whole scene before with FK-Kollektiv and therefore it has been nice to be more a part of it. It's also brought in new audiences, which is such a nice experience.
Paul: Yes, we also had a different audience. The regulars came, but then also a whole new crowd, which made a big difference.
Stephanie: I think there's an audience that is super connected to the festival, and they come to events that they might not normally go to. And that makes for such an interesting experience for us. And beyond that, it's really an encouragement to keep doing what we do, because it can be a lot of work. That makes people stop, and perhaps the festival is a little nudge to help you continue.
Paul: You know what? At the end of the day: putting on a show is easy. No one ever says this. (laughs) Some people make a big deal of curating, and while it's a lot work, it's not that hard. You just have to make sure that you get the same amount back that you put in. And I think you can find that in the reception of the audience; when you see what it means to people, the sense that one is doing something significant. There's the work, but there's also a lot of pleasure to be had from people coming and being excited about a show.
With nearly thirty spaces taking part, what do you think has been the impact of the festival on the community of project spaces, on the whole?
Stephanie: I think's it's important to connect these spaces. To me, what it means to have a project space is: to preserve something that is outside of the institutional structures. And in doing that, it's important not to be isolated.
Paul: To be honest, I don't detect a great sense of community in the art scene here to begin with. Maybe it's because I'm an outsider, but I think it's very fragmented. There are whole scenes that I'll never be part of and in that respect it's very different to London. There, everybody knows each other because of the art schools, which are the only reason artists move to London. Everyone's aware of each other. In Berlin, lots of people come here for all sorts of reasons and so they don't really connect. And that's not necessarily problematic; it's just the way it is. What the festival is doing is important, if only for the money that they are generating for the scene. And they've done a great job with raising public awareness for the project spaces and their work. I mean, project spaces aren't really a sexy thing, are they? I guess it depends on what you like, whether you think glamour and money is sexy or whether the edgier stuff has more appeal to you. But I don't think that project spaces have such a strong profile and the festival has helped a lot in that way.
Is there a political layer to the festival as well?
Paul: Yeah, it's in the spirit of the city where money isn't king. It's not the driving force behind everything. And when it does become that one day, it will be a real disaster, a real shame.
Stephanie: Yes, the artistic spectrum in the city has been appropriated and used in many different ways, for the housing market, for tourism. Maybe not necessarily out of bad intensions but that's what has happened. And so art loses that initial raison d'être. But especially projects spaces are really supportive of 'outsiderness'. The project space scene is where a lot of people work on something that is not directly linked to capitalism. I think it will be harder to keep doing that, and so it will be important to build communities – which is something that the festival is doing. And also looking at the current state of politics in a broader sense, I do think it's incredibly important to remain independent in order to perhaps one day also be activist. You have to reserve that potential.
Do you think Berlin has a future as a city of cultural production?
Stephanie: Germany is at a pivotal place at the moment politically – in Europa and in the world. And it is important to stay here, and support the good policies that have been proposed and implemented. I mean, the budget for arts is still here. They still want to support that. You could be cynical and see that as their way of pushing for more tourism. But perhaps there's also that other, more sincere side – and I think it's good to support that.
Is running a project space also about giving back to the scene, to the city?
Paul: Yes, but you don't want to sound like a dickhead about it. My last studio was in Dunckerstraße in Prenzlauer Berg. And in the 70s and the 80s there was a project space-type gallery in the same building: the EP Galerie run by Jürgen Schweinebraden. It was one of the most important and yet unofficial art spaces in the GDR, the first space to show performance or video art in the GDR. The Stasi was keen to close it down but there were people who were very protective of the space, and so it managed to survive for quite a while. This is such an important piece of history which people don't really talk about anymore. It has almost entirely disappeared, especially since that area of the city has been so heavily gentrified in the last ten years. And I think it's that kind of tradition that is in the back of my mind when thinking about my own project space, the notion to keep some of that idea going.
—
Interview: Manuel Wischnewski