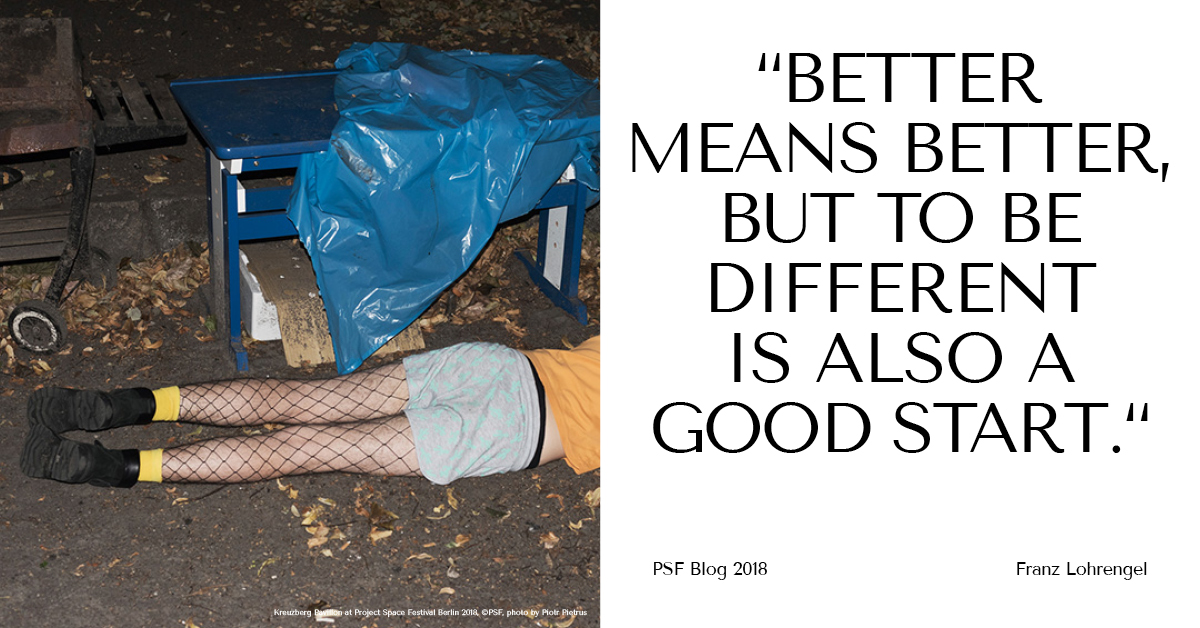 Those who went to this year's festival will have surely met Franz Lohrengel. The retired art teacher has been living in Berlin as a photographer and artist since 2002, and has seen over half of the events during the 2018 festival – always with a sense of curiosity, and his camera ready at hand. But what stays in mind when you've seen almost everything? A short look back with one of the festival's busiest visitors.
How did you become aware of the festival?
As an artist and photographer, I have known some project spaces for years. I also use the Internet and printed programmes, and look out for posters in the city, like the ones that were around for the festival this year. As a curious observer, I am mostly around in Mitte, and therefore slightly spoiled. That's also why I'm constantly looking for special moments that somehow mirror the zeitgeist.
Are you also going to project spaces outside the festival?
From time to time, when they don't overlap with other openings or staged photo shoots in theatre, which I have to photograph. I've also considered being more active within the scene, but I simply don't find the time to do that next to all my other activities.
How did you experience the festival this year?
As a former architect, I'm particularly curious about spaces that haven't been refurbished yet. Also, I'm generally interested in how we deal with the matters of human existence and their possibilities. And that may also include banalities and failed attempts. That you see something new everyday at the festival is a real incentive to experience as much as you can, and to compare the various ideas that are presented with one another. For me, there was a performative but also conceptual focus in this year's festival. Looking back, there have also been weak spots, of course. Perhaps there could be a broader spectrum of artistic approaches. I kept thinking of the activities around the occupation of the Volksbühne, which I found exciting. But I'm definitely coming back next year.
Were there events that stood out for you in some way?
I thought the x-embassy was overall really fascinating. As a property it's a hidden gem – but that won't stay that way, unfortunately. And then I was really surprised when I came to tête about how much work, precision and care went into the presentation. It was a concentrated exhibition with side-products of the artistic work process – a really convincing concept. I was intrigued by the myriad of ideas and their explanations by Heidi Sill for example. And then I found the conversations outside almost performative, although I can't say exactly what people were discussing so animatedly.
How did you experience the atmosphere at the various events?
As an old man, I'm often by myself when I'm out and about. I really have to look out for an exchange with others, or have to let it happen with a bit of patience and by giving it time. It seems to me that it's not often the neighbours of the project spaces that come to the events but rather friends and the usual suspects. But there was also an exchange with the artists and other festival visitors. And about that I'd just like to say a couple of words: What matters in life is always the personal connection. You can get a lot done by yourself, but it's always better to have allies.
The Project Space Festival understands itself as a festival of non-commercial and independent art spaces. How important is it to you that spaces like this exist, next to the main institutions and museums?
The weirder a space and its surroundings come across, the better it is for the audience and me. But I don't necessarily need a label for that. What it comes down to for me is this: Better means better, but to be different is also a good start – and to be present is really what it's almost all about.
—
Interview: Manuel Wischnewski