Project Space Festival Day 1: Apartment Project
Channeling the uncertainly caused by an increasingly unclear political era, seven Turkish artists (Borga Kantürk, Evrim Kavcar, Gökce Süvari, Gümüs Özdes, Merve Ünsal, Sevgi Ortac and Apartment Project organizer Selda Asal) lived and worked together for one full month. The artists exhibited fragments of their shared artistic practice and conversation in the exhibition WHO KNOWS WHERE WE ARE at Apartment Project.
A series of drawings arising from this process were printed and presented on a table, one from each artist, showing the group repositioning themselves in various formations of being-together: drafts for a Fanzine. A lecture-performance by Merve Ünsal questioned the role of the artist as image-maker in a world already cluttered by an economy of violent and banal images. A small, hanging talisman by Evrim Kavcar pulled together hidden scraps of paper and other material gathered from the group over the month. Equally dense, the windows of the exhibition space were made opaque and turned into a surface for the projection of a film from Selda Asal, entitled writing in the air. Passers-by were arrested by fleeting impressions of members of the group silently tracing illegible letters in the air.
Being surrounded by fog means not being able to clearly see – but in fog, it is also possible to hide and, from this position, to seek out means of translating one's understanding of things. In November, 2016 and May, 2017 the artists will again come together in order to continue their artistic practice.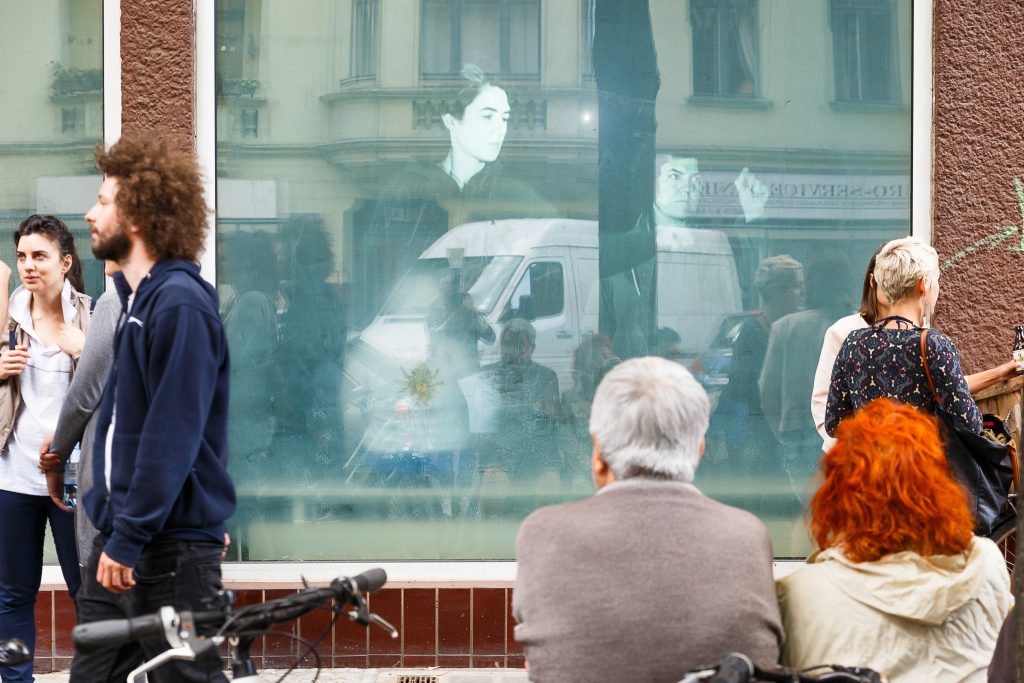 Selda Asal, writing in the air, video projected onto window, looped, duration: 7min, 2016
Photo: Ozge Topcu
Project Space Festival Day 2:Tacho
The state of exception was approached in a different way at Tacho, where missing icons (Andrea Knoblauch und Ute Vorkoerper) raised a new flag for Europe, accompanied by the ironic strains of a recording of the European Anthem – Ludwig van Beethoven's Ode to Joy – set this time in a nostalgic minor key and played by a xylophone.
The site, a children's traffic circuit in the center of Kreuzberg, shares this nostalgic aura. Tacho works with the site by curating a series of public inverventions. Because the public infrastructure of the site was built for children, everything is slightly too small – from the miniature streetsigns to the traffic lights and small bikes scattered about. On the day of the performance, entitled Europe. A visit to the enclosure, the visitors themselves, as well as the beer, the artists and the flag itself appeared too large, too awkward: misfits for this strange place. A little like the projected imaginary of Europe, here, it was also not clear whether an imagined ideal shapes the reality of things or vice-versa…
missing icons, Europa. Besuch im Gehege, Komposition aus VerkehrsŸbungsplatz, Bildobjekt und Soundprojekt, 2016
Photo: Joanna Kosowska
Project Space Festival Day 3: insitu
Is it possible to meditate without letting go of critical or political thought? Or more precisely, how might it be possible to embody thought? Two performative contributions – a meditation led by Deborah Ligorio and a sound intervention by Franziska Lantz – accompanied the opening of the exhibition Soon Enough at insitu on Wednesday. Curated by Matilde Cerruti Quara und Sorana Serban, the exhibition contained traces of the borders between the technological and the organic, between the living and the dead. Gathered from the river Thames, old bones hung in a loose cloud from the ceiling (Franzsiska Lantz, Bones organ composition Thames, 2016), while primeval forms and plankton organisms, presented to us anew through technological surfaces, were invested with the patina of possible futuristic life forms (Mara Ploscaru, Tatresi, 2016 & The Fiery Serpents, 2016). Priscilla Tea's untitled video work, screened intimately on a tablet, confronted the merge between digital and real landscapes, similarly thematized by an index of the computer virus and cyberweapon Stuxnet through a series of scapes printed on aluminum by James Hoff (Skywiper No. 16, 2014). Conflict was transformed into a kind of corporate-chique by the outfits of Nicolò Russian – worn by models who mix with the public at the opening in Loyal Enemies (2016). A video by the artist shed light on cracks in the artificial division between daily life and violence maintained by the media.
At the end of the evening, Franziska Lantz carried out a sound performance in the courtyard at atthebar, dressed as a being from prehistory or perhaps the future, in deep concentration and completely unaware that it had already begun to rain.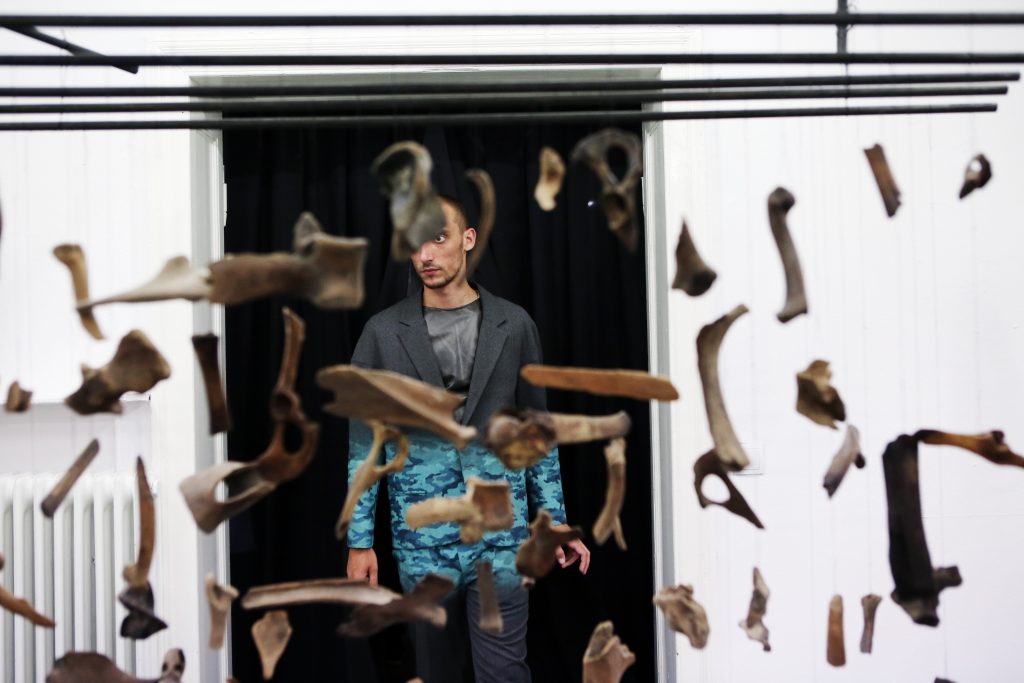 Installation view with Bones organ composition (Thames), Franziska Lantz, bones, string, wood, 2016 and Loyal Enemies, performance and menswear range, Nicolò Russian, 2016
Photo: Joanna Kowsoska
Project Space Festival Day 4: Bruch & Dallas
The gentle, unabating rain continued to accompany Bruch & Dallas's action on a public piece of land next to the (currently closed) Neue Nationalgalerie. In the center of Berlin, surrounded by prominent architectural structures of Berlin's 90s boom, the floor-plan of the Cologne-based project space was temporarily transferred one-to-one to this site. Carefully measured, the exhibition space was clearly demarcated by an open, grey form swept clean using a dustpan and brush – a form that mirrors exactly the concrete surfaces of the 70s-era stripmall shop at Cologne's Ebertplatz, where Bruch & Dallas exists alongside three other project spaces since 2009. It is due to the work of project spaces that such spaces – no longer attractive for businesspeople – are again brought to the public's attention. Close by to the Neue Nationalgalerie, Hans Sharoun's Berliner Philharmonie and the Sony Center's edifice, the floorplan of such an everyday space from now on keeps company with other architectural forms of assumed significance.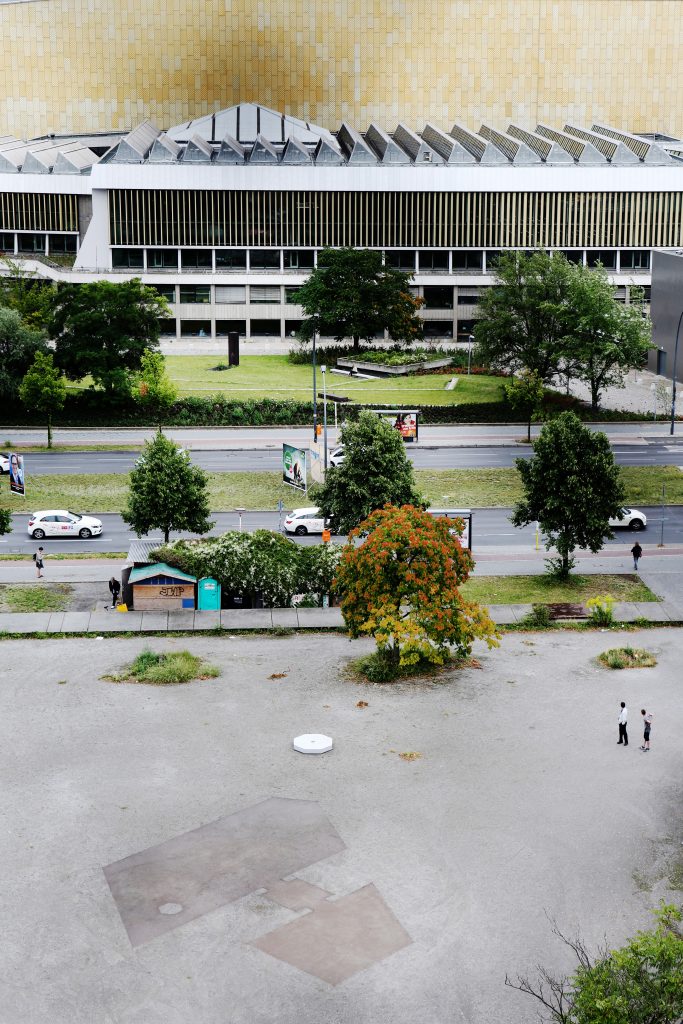 Bruch & Dallas, Layout, site-specific intervention, 2016
Photo: Joanna Kosowska
Project Space Festival Day 5: DISPLAY
Two pieces and two artist-duos working with body language and (mis)communication were to be seen at DISPLAY's exhibition INDEX on Friday night. As well as visitors to the exhibition, curious passers-by crowded the front window of the project space's shopfront showroom, in which the video work Classified Digits by Christine Sun Kim and Thomas Mader was displayed. In the film, one person stands with their hands behind their back, while a second person replaces the gestures of the first. In this peculiar formation, Kim and Mader played out a tableaux of awkward social situations, thematising questions of inclusion and exclusion. Of key importance is the fact that Kim, herself deaf, has long researched the phenomenon of sound as "social capital": the film ran in complete silence, compelling the viewer's attention entirely through body language.
Meanwhile, out the back, a warmly lit kitchen filled with onlookers contained an equally full bathtub in which performance artists Carrie McIlwain and Johanna Ackva, naked, led an an animated conversation about various fluids, particularly those of the female body – where they belong, and where they are forbidden (Women and Watery Men, 2015-16). The conversation bled into a discussion about the scholarly and social thresholds and borders separating bodies, body parts and fluids from one each other. The bath is a place for dallying about, and a sumptuous platter of cheeses, bread and fruits shared with the public compounded an impression of generosity and excess. But how to maintain this mode of existence in daily life? This question was examined in a continuation of the performance in the gallery space. One artist posed questions with a microphone, drum and guitar, while the other answered through an alphabet system traced through bodily movement. Through this, body and language were emancipated from their traditional separation and merged together. Because it is clear that communication takes place between (at least) two bodies.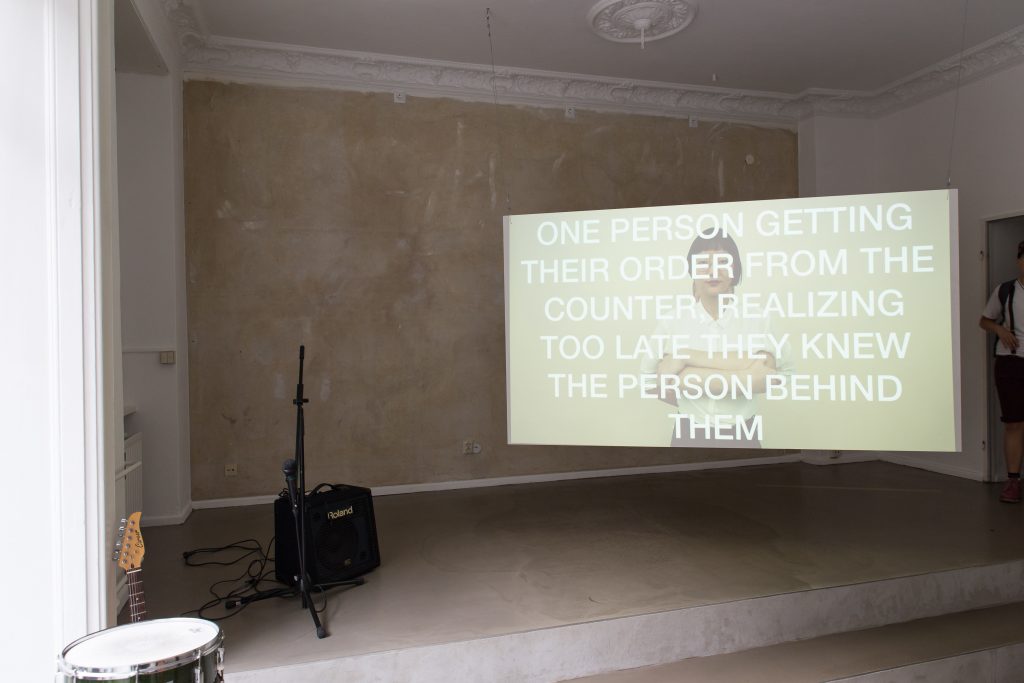 Christine Sun Kim & Thomas Mader, Classified Digits (2016), looped video, 5 min 28 seconds.
Photo: André Wunstorf
Project Space Festival Day 6: Kreuzberg Pavillon
On Saturday night, the shortest event of the Project Space Festival took place at Kreuzberg Pavillon. All participants of the exhibition The Maximum Speed of a Non-Profit Space, regardless of whether artists or visitors, committed to attending a radically short event of only five minutes. Seven artists – Wes Gilpin, Stephan Groß, Petra Klabunde, Birgit Maaß, Immanuel Rohringer, Micki Tschur and Reggie Voigtländer – responded to a call-out in the week leading up to the five-minute-long evening. However, very little of the exhibition could actually be seen due to the large number of visitors, who had already gathered in front of the exhibition space an hour before the opening. In line with the intention behind the event, it was only possible to catch momentary glimpses of the work – something the artists themselves took into account in their work. Upon entering the space, the visitor unavoidably came into contact with Birgit Maaß's Inbetween, a door-curtain made out of hairs plucked from the wigs of former "Winnetou" performers (Winnetou being an idealised figure from the Wild West novels of popular nineteenth-century German writer Karl May). In the center of the space, an improvised hourglass called to mind the unending working hours of the many locals who help support themselves by cashing in recyclable bottles. Stephan Groß drafted the fictional logo of the so-called System vorbestimmten Zeiten MTM – for universities – while a painting of a clock frozen at precisely four minutes past eight ironically exaggerated the naturalistic elements of painting, simultaneously reminding visitors that each moment of perception is always already about to dissolve into another. Reggie Voigtländer's performance Move worked through the complexity of a single arm movement, while Petra Klabunde attempted to create a direct connection in the short exhibition period by inviting visitors to crouch down with her. The positioning of the visitors became as much a part of the event as the hectic search for each exhibition work. The visitor who asked me at the end of the exhibition which work was by Wes Gilpin already – without knowing it – held his work in her hands: an unassuming piece of paper that could have fallen out of somebody's pocket.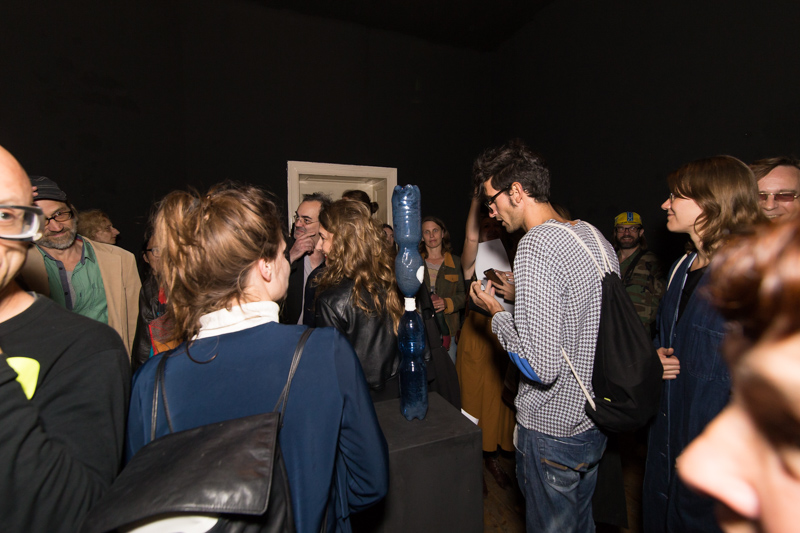 The Maximum Speed of a Non Profit Space, Installationsansicht einer Arbeit von Immanuel Rohringer.
Photo: André Wunstorf
Project Space Festival Day 7: Labor Neunzehn
During a car trip through Treptow, I once learned from the Swedish artist and percussionist Sven Åke Johansson, who has lived in Berlin for thirty years, that Kiefholzstraße is the longest street in Berlin. Most Berliners, he told me, are unaware of this fact because the street does not contain any representative buildings, only at best a few junkyards. It could well be that this entirely unpretentious street is the perfect place for sound art, and indeed: directly behind Görlitzer Park, where the canal marks the path of the former wall dividing west from east and Kreuzberg from Treptow, is the "Lohmühle": a peaceful, green (and permanent) caravan park where, each year, the inhabitants put on a jazz festival. Even during the GDR period, jazz sessions and spaces for experimental noise music took place here. Such places have never been easy to find, not unlike the entrance to the studio courtyard where Labor Neunzehn can be found. Those who made their way to the fourth floor of the former GDR building were received by Valentina Besegher and Alessandro Massobrio, who presented the first part of their continuing concert series Cluster with the cellist and composer Nora Krahl as well as duo Annette Krebs and Axel Doerner. Nora Krahl played five short composition, four of which were her own, for which she prepared her instrument with sticky-tape, pieces of paper and plastic. Afterwards, an electro-acoustic session hooked up an electronically modulated wind instrument played by Axel Doerner with Annette Krebs' e-guitar, pulled apart and laid out as if on a dissecting table.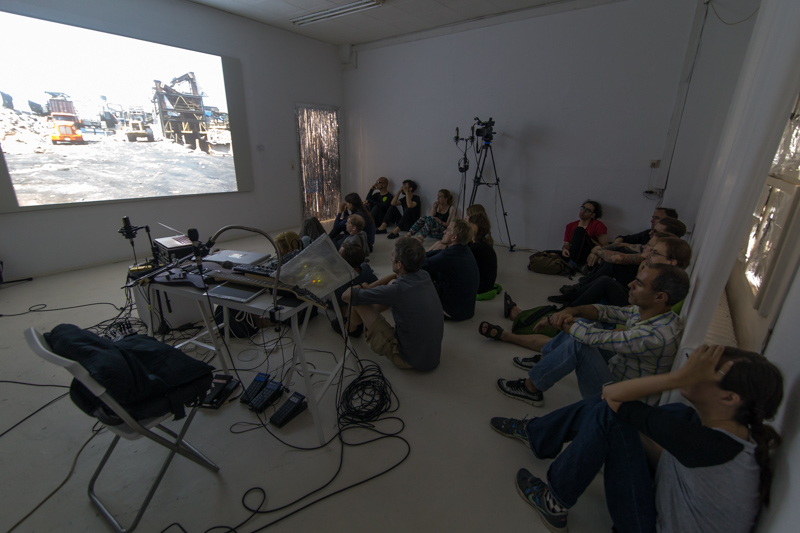 Cluster #1, Labor Neunzehn
Photo: André Wunstorf